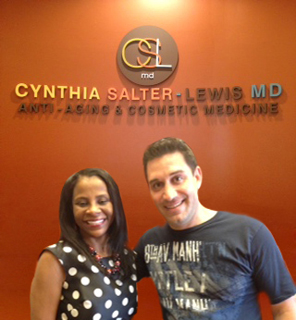 Cynthia Salter-Lewis, M.D., Inc has a history of giving the best cosmetic beauty events in Monmouth County and this year will be no different than with her annual two day Open House extravaganza. On Friday, May 31st 12-6pm and Saturday, June 1st 12-4pm hundreds of ecstatic individuals will gather at Exclusive Plaza located at 316 Route 9 North in Englishtown, NJ to receive a 5 minute mini-consult on Friday from NJ's Top Injector Dr. Cynthia Salter-Lewis. On Saturday, patients can view live demonstrations of Dysport and Restylane. In addition, on both days, patients will have access to special expo pricing on cosmetic services and products. Attendees will receive free gift bags and Hors d'oeuvres as they take in all the afternoon has to offer.
Finally, in the spirit of charity, Dr. Salter-Lewis will donate a portion of the proceeds earned to Hometown Heroes to benefit families in New Jersey affected by Hurricane Sandy. Dr. Cynthia Salter-Lewis states "I am so excited. This is my favorite time of year because I get a chance to offer my services on a larger scale and meet many new people. At the same time, I am happy to benefit a charity like Hometown Heroes, as Hurricane Sandy is personal and has affected many of my patients, my business, and my family".
Mike Schwartz, Founder of Hometown Heroes will be there to receive the donation on Saturday.  "It is only through the generosity of local business owners like Dr. Salter-Lewis that we are able to assist so many local families affected by Hurricane Sandy. We are grateful and thankful to Cynthia Salter Lewis, M.D., Inc. for taking an active stand in helping families rebuild", states Michael Schwartz.
Attendees can register for open house, mini consults and live demonstrations by either calling 732-490-5130 or online at www.salterlewismd.com.  Dr. Cynthia Salter-Lewis encourages all of her staff and patients to make an online donation to Hometown Heroes at njhometownheroes.org.
About Dr. Cynthia Salter-Lewis, M.D., Inc.: Dr. Cynthia Salter-Lewis provides the highest quality care in a professional yet friendly environment, within their New Jersey office. Every patient receives quality care tailored to their specific individual needs. Procedures include: Injectables such as Xeomin, Dysport, Botox, cosmetic fillers, laser treatments for hair removal and acne. Other treatments include, IPL for sun damage, medical weight loss and more. Dr. Salter-Lewis also specializes in chemical peels, laser peels, and laser resurfacing to help individuals age gracefully and maintain a younger natural looking appearance.   All procedures are perfomed by Dr. Cynthia Salter-Lewis and not a technician. Cynthia Salter-Lewis, M.D., Inc. is committed to providing patients with better anti-aging solutions. To book an appointment with Dr. Cynthia Salter-Lewis call (732) 490-5130 or visit her practice's website at www.salterlewismd.com. For press inquiries please contact Cordelia at cordelia@salterlewismd.com.
About NJ Hometown Heroes: Hometown Heroes is an incorporated organization founded in 2008 to provide assistance to the community at large. Hometown Heroes' main purpose is to foster an environment of goodwill, generosity, and encouragement by supporting local communities when unexpected needs arise during a crisis without discrimination towards an individual's ethnicity, gender, and age. The organization provides an opportunity for all of us to give back to the community through professional assistance, financial assistance, and advocacy. Hometown Heroes helps those in need, who often with little or no time, to find a solution to a problem that at the time appears overwhelming.www.njhometownheroes.org
In Jersey June 2001